Image Credit: The Trade Group
Hey everyone! It's been awhile – I've been giving talks in LA, Las Vegas, and Orlando at the Gnomon School, ACTE 2016 and FETC 2017 conferences.If you don't know who or what those are, let me tell you: Wikipedia refers to the Gnomon School as the "MIT of computer graphics", ACTE stands for the Association for Career and Technical Education, and FETC stands for the Future of Education Technology Conference. Why was I there? To give talks about 3D Printing on behalf of Formlabs!
We are growing our education engagement, and I'm on the front lines, teaching classes to educators and decision makers in schools today. In LA, I gave a primer of what 3D printing is to an audience of students, educators, and professional computer graphics experts, alongside 4 other 3D Design experts. You can watch the talks here (hint, I'm up first ;)).
In Las Vegas, we stayed in a kickass Airbnb and made some cool connections in the air conditioned convention hall. I gave two short talks to an audience made of up teachers – they ran makerspaces and some taught several subjects. Some industry folks were out there too – Ultimaker made a good showing. My team and I returned to Boston happy and excited.
FETC in Orlando was the best show yet, and the most challenging so far. I was to teach two, two and a half hour time slots titled Introducing 3D Printing in Grades 8-12. This talk ended up borrowing a lot from other talks I've done. The response sheet has not come back yet, but I believe the classes were well-received and Fusion 360 was not (t00) frustrating for most of the people who stayed – something I was nervous about because I recently had to switch from 123D Design to Fusion 360, ever since Autodesk ceased development on the former.
The first class was packed – 32 showed up, and only 12 people who RSVP'd actually came…but roughly 25 people dropped in. So there was a bit of a scramble at the beginning to make sure everyone had enough computers, but whoever was manning the booths at the OCCC were a pleasure to work with. The second talk was a lot tamer – only about 15-20 people showed up out of roughly 5 RSVPs.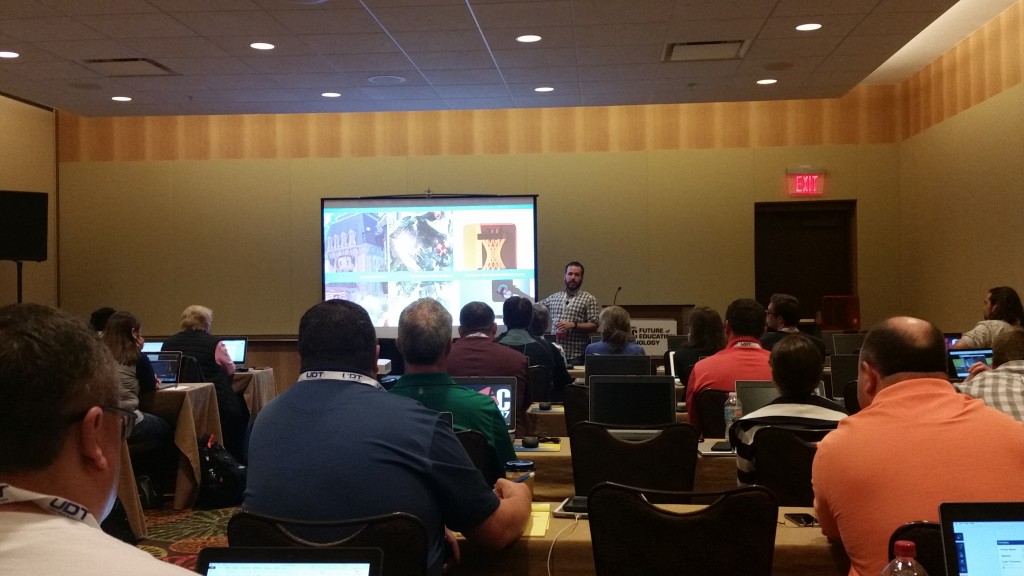 Image: A few minutes into the first class. Photo credit goes to one of my teammates at Formlabs (thanks Liz!).

For both classes, I gave a presentation on 3D Design, 3D Printing, planning 3D CAD/CAM lessons, gave suggestions on choosing a 3D software for your class, and learned about DDM (Digital Direct Manufacturing). After the talk, we had about an hour's class and by the end of both sessions, had about 15 3D printed airplanes (or permutations of such) in total. After printing overnight, we had them waiting at the booth for people to come by and pick up. It was a challenging but fun class and we covered a lot of material. I'll be writing a blog post about what exactly I mean about "3D Design" later, so stay tuned!
On the show floor there were a lot of software solutions on order – and of course, several 3D printer companies. I met some people from the Florida Virtual School – a public school that's entirely online, which was just really exciting to learn about since I had no idea anything like it existed! I got lots of contacts, met other printer companies, and generally plowed the floor for leads and business cards. I found quite a few, and have been busy filing and pursuing them ever since I got back. I've also ran a webinar about mold making using 3D printing, and continued to push the education initiative at Formlabs.
Got a cool tradeshow suggestion or other comment? Post them in the comments box below!